Plexr Plasma
Reduce the appearance of wrinkles, acne scars, and other skin irregularities.
Service
Wrinkle Reduction and Acne Scar Removal
The Integrative Natural Medical Center is proud to offer Plexr Plasma treatments in order to help patients achieve their desired skincare goals. Plexr Plasma is an innovative and non-invasive treatment that uses a plasma beam to reduce the appearance of wrinkles, acne scars, and other skin irregularities. This advanced technology works by creating small points of heat on the skin's surface which causes an immediate contraction of the proteins, leading to a reduction in wrinkles and improvement in skin texture.
Not only does this treatment provide excellent results for those seeking wrinkle reduction and acne scar removal, it also helps improve overall tone and texture of the skin. The heat generated during the treatment stimulates collagen production, which helps maintain skin elasticity over time. Additionally, because Plexr Plasma only works on the area that's being treated, there's no risk of damaging healthy tissue or causing any kind of adverse reaction.
Plexr Plasma treatments can be administered quickly with minimal discomfort or downtime. Most patients notice visibly improved results within just a few days after their initial treatment, with further improvements continuing over the following weeks. When combined with other aesthetic procedures such as microneedling or chemical peels, patients often achieve even more dramatic results faster than traditional methods alone.
At Integrative Natural Medical Center we believe in providing our patients with safe and effective treatments to help them look their best without resorting to invasive surgery or long recovery times. Our experienced medical professionals are here to answer any questions you have about Plexr Plasma or any other skincare solutions we offer. Contact us today for more information about how we can help you transform your skin!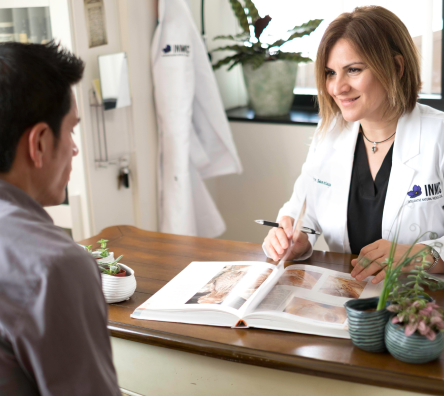 FAQ
Frequently Asked Questions